Good News
Viagra for the Brain
On checking into the "Hotel Galvez" for Mardi Gras, I noticed a current issue of "Forbes" magazine was left on the table. Usually, I wouldn't even take the time to peruse such material when I should be studying the throngs of crazed humanity outside my window. However, the article on the cover caught my attention and I just couldn't resist. "Viagra for the Brain" read the caption, and I thought to myself, "When was the last time I had a Head On?" Continuing into the cover text, I read "No more lost car keys" and realized that this could be the most important medical breakthrough since red wine was discovered to be good for your heart. This alone could save millions of dollars for Russell, but would probably bankrupt "Mr. Rescue". The little red pills should be ready for distribution in five to ten years, so I guess I'll stay close to the phone for now.
Another one for Lisa...
Party Party Party, that's all we do when we're celebrating birthdays. I think that the "Trail Dust" even keeps up with our birthdays so they'll know when to hire extra help. Or they should. Lisa had another one and guess where we went? (No prize this time). Even though I forgot to pick up Jerry on the way, most everyone showed up to help celebrate the latest anniversary of her 29'th birthday.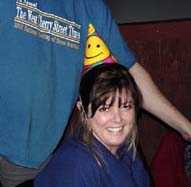 The birthday anniversary girl.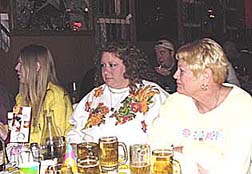 Joanna made it.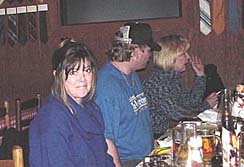 When the Fire Dept. told her she couldn't have a cake.
Dad too...
Wes had one too. And a wild one it was.

Wes enjoys a good party!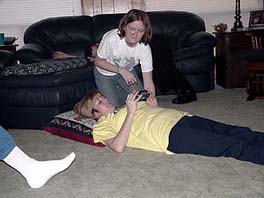 Ashley shows Teri how to relax properly!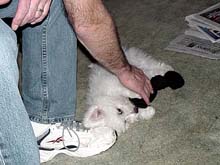 Dixie shows Bill how a sock is eaten!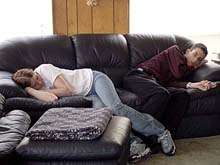 Ashley and Blake party down!
Better than Nothing...(serious stuff)
Beginning on January 1, 2002, you can add your name, address and telephone number to state-sponsored "No Call Lists," which will help limit telemarketing calls to your home or business. You can choose to register a residential telephone number for one or both of two "No Call Lists" sponsored by the Public Utility Commission (PUC.)
For a small fee, you don't get those annoying sales calls for three to five years. If it works, it's worth it to me.
On the internet at http://www.texasnocall.com/
Or toll free at 1-866-896-6225